Global looting from the poor by the rich is draining developing nations economies
Illicit financial flows (IFFs) from developing and emerging economies kept pace at nearly US$1 trillion in 2014, according to a study released on May 1, by Global Financial Integrity (GFI), a Washington, DC-based research and advisory organization. The report pegs illicit financial outflows at 4.2-6.6 percent of developing country total trade in 2014, the last year for which comprehensive data are available.
Titled "Illicit Financial Flows to and from Developing Countries: 2005-2014," the report is the first global study at GFI to equally emphasize illicit outflows and inflows. Each is found to have remained persistently high over the period between 2005 and 2014. Combined, these outflows and inflows are estimated to account for between 14.1 and 24.0 percent of developing country trade, on average.
Findings
An average of 87 percent of illicit financial outflows over the 2005-2014 period were due to the fraudulent misinvoicing of trade.
Illicit financial outflows from Sub-Saharan Africa ranged from 5.3 percent to 9.9 percent of total trade in 2014, a ratio higher than any other geographic region studied.
Total illicit financial flows (outflows plus inflows) grew at an average rate of between 8.5 percent and 10.1 percent a year over the ten-year period.
In 2014, outflows are estimated to have ranged between $620 billion and $970 billion, while inflows ranged between $1.4 trillion and $2.5 trillion.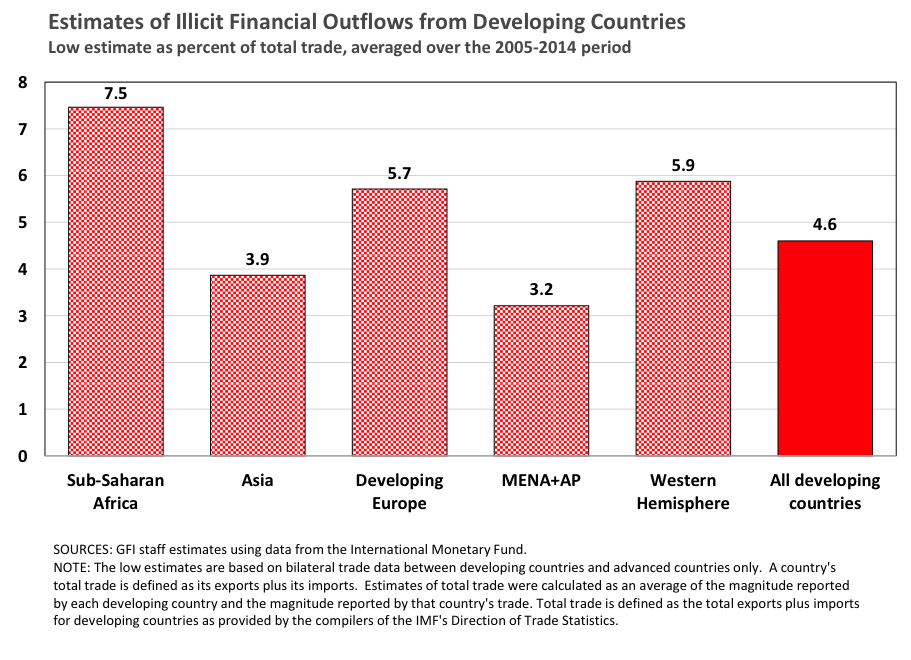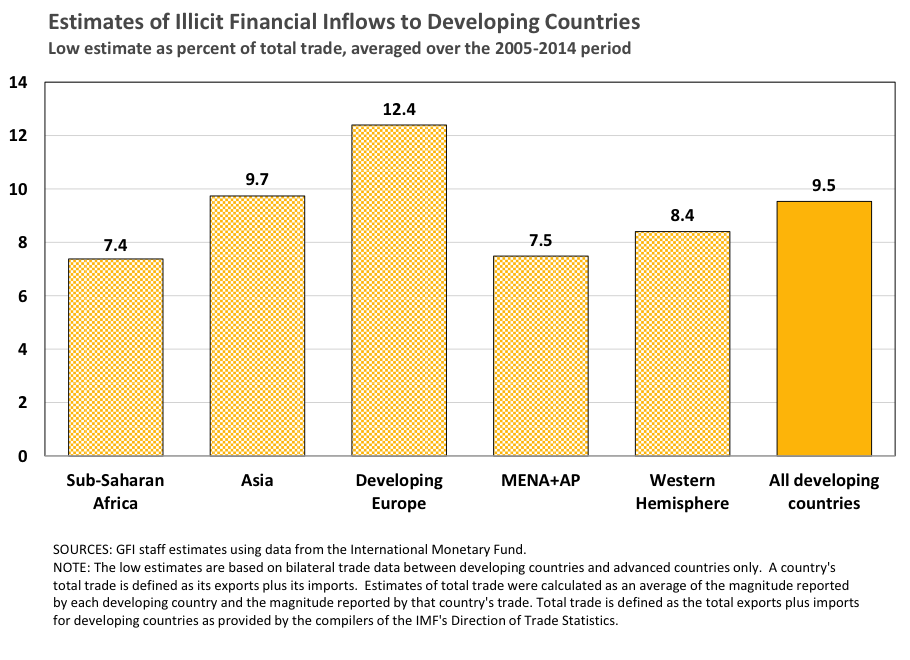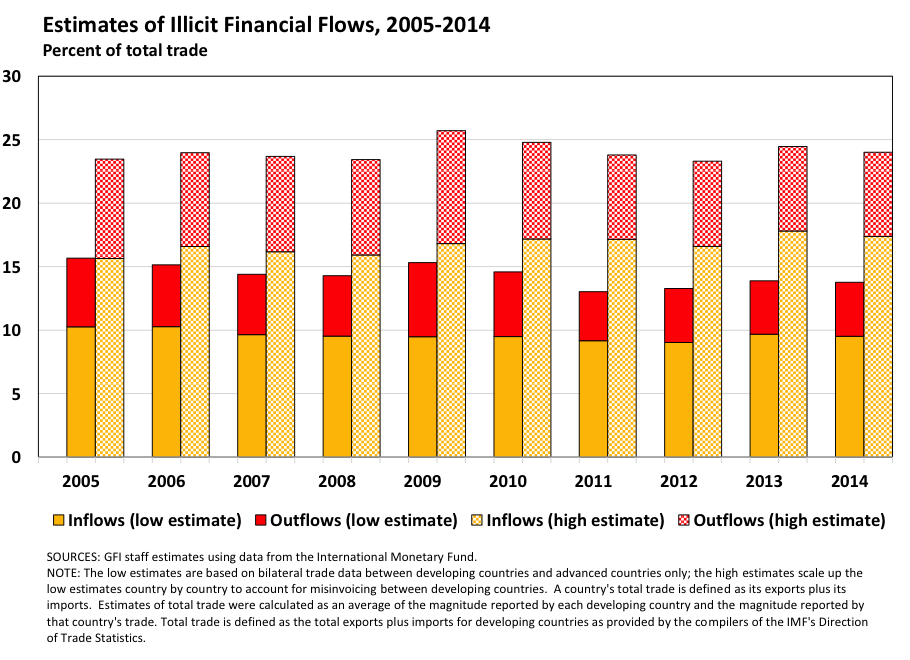 Read full report – http://www.gfintegrity.org/wp-content/uploads/2017/05/GFI-IFF-Report-2017_final.pdf
Last September the United Nations General Assembly adopted Sustainable Development Goals (SDGs) in New York. That marked the first time that illicit financial flows—which are estimated at close to 
$1 trillion
 per year—were considered as part of the development equation.Previously, development planners counted money entering developing economies (aid, trade, foreign investment and remittances), but the impact of illicit money flowing out of those economies had never been considered.
"This is the goal Global Financial Integrity (GFI) set at its launch in 2006," GFI President Raymond Baker said in reaction to the new global commitments. "The scourge that illicit financial flows (IFFs) inflict upon poverty alleviation efforts has become well known and now is addressed in the Sustainable Development Goals agenda (target 16.4). This is momentous day for development efforts around the globe," he noted.
To put the problem in perspective, illicit financial outflows exceeded the total amount of official development aid and foreign direct investment flowing into developing countries in seven of the last ten years (2003-2012).
The next step for the international community is to address the largest component of IFFs, which is trade misinvoicing. This is the intentional misrepresentation of the value of goods being imported or exported in order to move money offshore and to evade various taxes and duties in a developing country—essentially trade fraud.
GFI estimates that in 2012 alone some $730 billion in illicit flows due to trade misinvoicing exited developing economies. In the previous 10 years the value of trade misinvoicing is estimated at $5 trillion.
"GFI is prepared to work directly with governments to help meet the challenge of addressing trade misinvoicing," Baker noted, given the UN's recognition of the impact illicit flows have on development.
"By estimating the magnitude and nature of each country's misinvoicing challenge, assessing their needs and working collaboratively we will continue to lead in this vitally important development space."
Save
Save
Save