Kenya election 2017 Part 1:
Raila Odinga claims IEBC IT systems have been hacked
Countdown towards Kenya's post-election bloodbath being orchestrated at NASA courtyard with demands that Raila be declared the winner of August 8th election.
On the wee hours of Wednesday morning as the Independent Elections and Boundaries Commission (IEBC) was streaming early election results of August 8 General Election, NASA opposition presidential candidate Raila Odinga declared his rejection of the election claiming it was a monumental fraud and declared "Uhuru must go home".
On Thursday afternoon, NASA edged towards pushing Kenya into post election chaos by a demand from Musalia Mudavadi, that Raila Amolo Odinga be declared President and his running mate Kalonzo Musyoka deputy president. He based his demand on what he said were IEBC IT system database results given by a confidential source.
Mudavadi's demand, which borders on high treason, must have been a thoroughly well discussed matter by the NASA Pentagon disappointed by all observer teams in Kenya who said hacking of the Independent Elections and Boundaries Commission (IEBC) IT system should not be an issue since physical and Forms 34A and Forms 34B can verify every polling station results. The teams called on all who may be dissatisfied with results to pursue judicial processes not streets.
It is not clear how NASA plans to execute their demand if the IEBC declines to declare Raila President in an election he has not not won. It is not clear either if NASA leaders have enlisted support from other quarters, military or mercenaries to force through their demand. What is clear is that Raila has another chance to claim his "victory was stolen" as he has held in two previous elections and an opportunity to get more innocent Kenyans killed for him to ascend to power. On his part On his part Mudavadi has exposed himself to be a sycophant of unfathomable magnitude and a lifetime loser.
On Wednesday morning Raila said the IEBC IT system had been hacked to manipulate the election results giving him 11 per cent diminished results behind President Uhuru Kenyatta since results started trickling early evening showing him trailing the incumbent. He did not give any evidence on how the system was hacked or how he ascertained the hacking. Observers now hold the view that Raila should take up the matter with the IEBC, which NASA is determined to discredit before Kenyans and the world.
Raila first move was to reject provisional results from Tuesday's vote indicating a strong lead for Uhuru but IEBC chief executive officer Ezra Chiloba said its systems were not compromised at any point. However, as would be expected, Raila's claim led to early morning sporadic outbreaks of violence amid calls for calm from politicians. Raila had asked his supporters to remain calm until further unspecified instructions.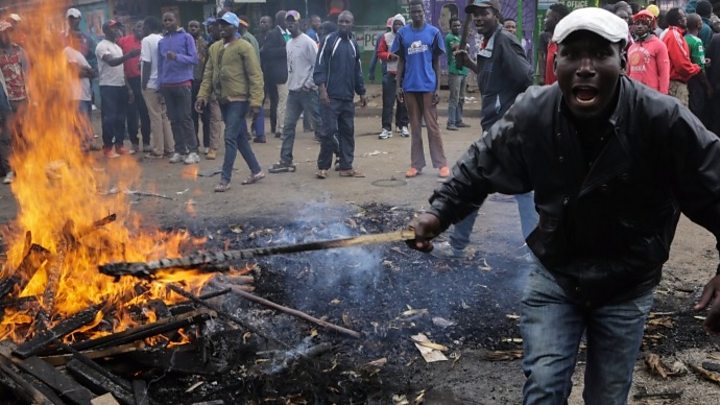 Two people were killed in a confrontation with police in slum settlement of Mathare, Nairobi, although that was initially denied by police. some reports said five people were killed. Police also fired shots at opposition supporters in the Lake Victoria town of Kisumu, a Raila's Orange Democratic Movement (ODM) opposition stronghold.
Chiloba said the electoral commission had received no formal complaint about hacking from NASA. Speaking Wednesday morning, Chiloba added: "I wish to take this opportunity to confirm that our elections management system is secure. There were no external or internal interference to the system at any point before, during or after the voting."
Many fear a repeat of the violence after the disputed election 10 years ago in 2007-2008 . Some 1,500 innocent Kenyans died and 650,000 families (3.2 million Kenyans) were displaced following the 2007 General Election, after Raila called for mass action against the election.
How do provisional results stand?
Raw polling data published on the website of the Independent Electoral and Boundaries Commission (IEBC) says that with 98% of results in, Kenyatta was leading on Thursday evening with 8,136,524 about 54.24%, to Raila's 6,731,902 approximately 44.89% share of the vote. Social media messages were saying Raila, judging from his percentage, was on his way to Githurai 44 on the outskirts of Nairobi and not Canaan as he promised his supporters.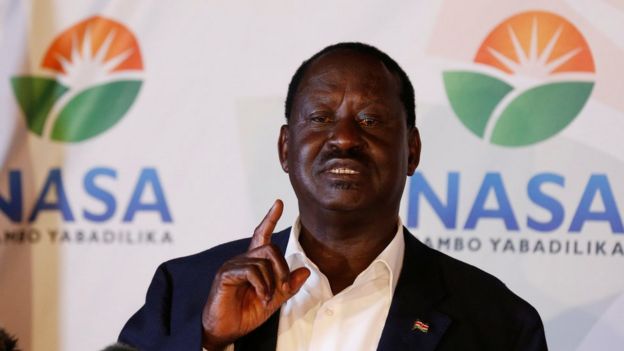 Raila rejected election results as he is headed to Githurai 44
These results over the last two days mean Uhuru appears to be heading for a first-round victory. But they are not officials results, IEBC Chebukati said, as Forms 34A – filled in by presiding officers to tally votes at polling stations – have not yet been checked against the results the IEBC has already declared – they remain provisional until confirmed with Form 34B.
The commission has said it will publish the final results on Friday mid-day. Legally, it has to announce the results within seven days of polling stations closing.
In order to avoid a run-off, a candidate needs 50% plus one of the votes cast and at least a 25% share of the vote in 24 of Kenya's 47 counties. There were eight candidates in all, but apart from UHURU and Raila, none polled more than 0.3% of the vote.
Uhuru won 50.7% of the vote at the last election in 2013, narrowly avoiding a run-off.
Also read:
What have election observers said?
Following Raila claims, election observers from the East African Community, African Union, European Union, Carter Centre and National democratic Institute held press conferences to issue their interim reports urging political parties "to use the legally provided channels of dispute resolution in case of any dissatisfaction with the process", adding that police should "avoid excessive use of force".
They also said the IEBC should carry out the tallying process "with full integrity and transparency". They said they were observers and not investigators into the hacking claims.
<iframe src='http://players.brightcove.net/665003303001/4k5gFJHRe_default/index.html?videoId=5536382657001′ allowfullscreen frameborder=0></iframe>
How have Kenyans reacted?
Speaking at a press conference Mr Odinga, who heads the National Super Alliance (NASA), said his supporters should remain calm, but added: "I don't control the people". The opposition may call for "action" at a later date, his deputy, Kalonzo, said.
Opposition supporters have protested in the Mathare slum, one of Raila's strongholds in the capital, Nairobi. Meanwhile, volatile Kisumu  saw a group of several hundred of his supporters take to the streets shouting: "No Raila, no peace". They were then dispersed by police using tear gas. However, these appear to be isolated incidents.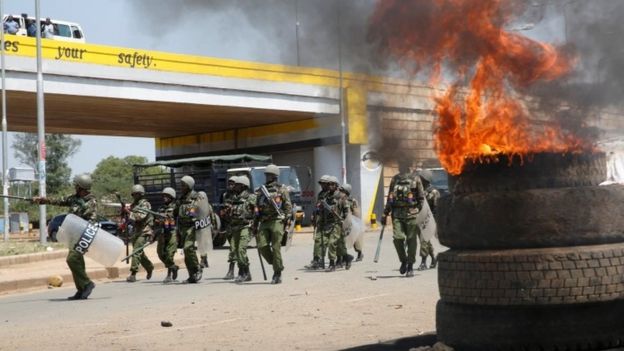 Kenya's government spokesman Eric Kiraithe described them as "minor skirmishes", which the police had contained.
Internal Security Minister Fred Matiang'i urged Kenyans to continue with their normal activities but said that social media access could be restricted if it "threatens the security of the country".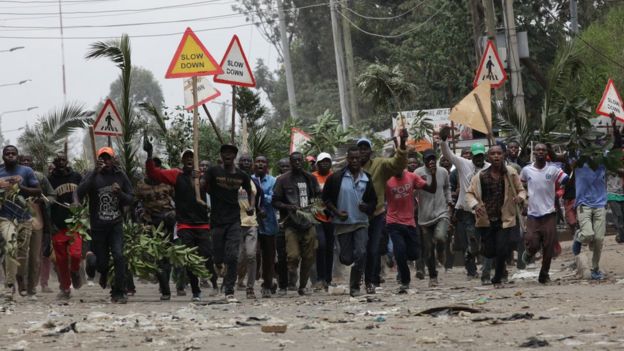 What's Raila's complaint about the vote?
Raila claimed in a tweet that his party's own assessment put him ahead of Uhuru. His NASA  Pentagon colleague Mudavadi, who has been promised the post of Premier claimed figures procured from IEBC data base showed Raila had in excess of 9 million votes and he should be declared President and running mate Kalonzo Deputy President. He did not disclose how the database was accessed by their secret NASA informer.
He said that the hackers, whom he did not identify, had gained access to the IEBC computer system by using the identity of the commission's IT manager, Chris Msando, who was killed last month. It was not immediately clear whether the password was still valid two weeks after his brutal murder.
Raila alleged that the hackers had "loaded an algorithm" that allowed them to alter the results and ignore the figures being transmitted from tallying centres around the country. The IEBC has dismissed Raila's claims and said the interim results displayed for public match those transmitted from polling stations around the country.
The opposition is relying on a huge ITC conspiracy to explain its margin of defeat. So just how viable are the claims that the IEBC computer system was hacked? What's the evidence? How can it be proven or disproven?
All observer groups in Nairobi dismissed the ICT hacking as a legitimate cause of concern saying the integrity of the results rested on the tallying of Form33A and Form34B, which contain physical verifiable details filled and signed by party agents at polling stations.
Former US Secretary of State heading Carter Centre team said the IT system was just a transmission method but the physical forms represented accurate and accountable evidence to determine the veracity and integrity of the poll results and the will of Kenyans. He advised that disputes be channeled through courts.
Ballot boxes
If the provisional results stand, Uhuru's winning margin of nearly 1.5 million votes should be large enough to be convincing. That is what has driven Raila into tantrums of desperation.
What does the electoral commission say?
The electoral commission said it would look into Raila's claims, but urged people to wait calmly for the full results of Tuesday's vote.
"During this critical phase, we urge all Kenyans to exercise restraint as we await official results from the polling stations and indeed as they start trickling in," the commission said.
However, IEBC admitted that a lack of mobile data coverage had delayed the delivery of the Form 34A supporting documents. The presidential candidates' agents would have "special access" to the forms, though, the electoral commission said.But NASA seems to be hacking their own way into IEBC database anyway.
How did the voting go?
According to all election observer teams in Kenya the voting passed off peaceful, transparent and free with long queues at many polling stations, some of which remained open after the scheduled 5 p m closing time. Kenyans expressed their will freely.
But there was one heartening moment when a woman gave birth to a baby girl as she queued in West Pokot to cast her ballot. New mother Pauline Chemanang called the circumstances of the birth a "blessing" and called her baby Kura, Swahili for "ballot", according to local radio.
What is at stake?
Uhuru is looking forward to a second term in office. Voting for the national and local assemblies has also been taking place in 5-year cycles.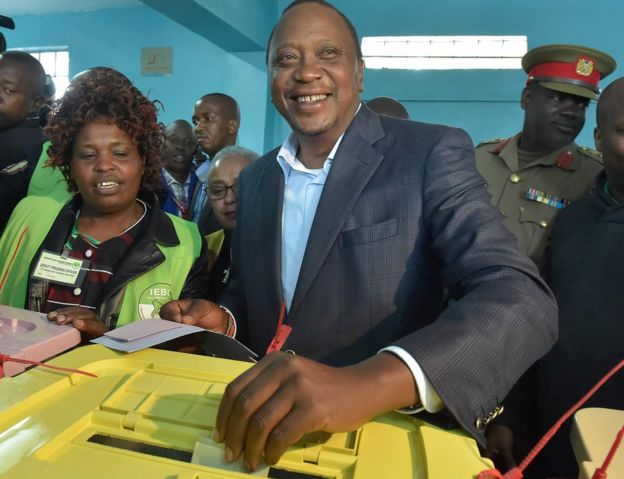 Raila 72, has run for president three times and lost each time. Now he wants declared President or plunge the country into chaos in order to get what is popularly known as Nusu Mkate or Grand Coalition with winning Jubilee.
Uhuru, the 55-year-old son of Kenya's founding president, beat him in the last election in 2013 with a 800,000 vote margin. Their rivalry however, is generations old – their fathers were political opponents in the 1960s. Raila's father Jaramogi Oginga Odinga was Uhuru's father, Mzee Jomo Kenyatta's vice President from 1963 to 1969.
Save
Save
Save